75 Corporate Park Drive
St. Catharine's, ON L2S 3W3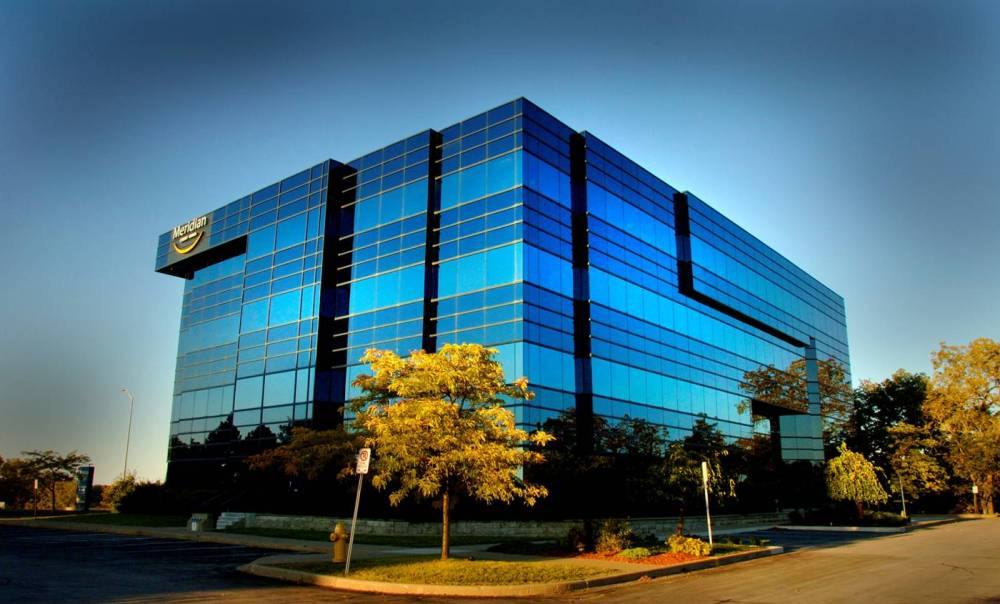 The uncompromising style and convenience of Seventy-Five Corporate Park creates a luxurious working environment designed to appeal to growing businesses in and around the Niagara Peninsula. Seventy-Five Corporate Park affords the same high standards of quality and design and construction set by Twenty and Twenty-Five Corporate Park, but with dramatic variation in exterior design expression. Exterior of blue tinted reflective glass reflect a quality and discerning style that is continued throughout the Building.
The four (4) story building has approximately 57,169 square feet of rentable area with an approximate floor plate of 12,000 square feet, offering outstanding flexibility in floor plans. Peripheral floor spaces offer generous window area with impressive views in all directions. The building has a high security keying system with 24 hour controlled access and video surveillance. Primary points of access and central facilities have been designed to be barrier free, including provision for handicapped parking immediately off the South main entrance. Abundant parking has been provided at a minimum ratio of 4 spaces per 1,000 square feet of Rentable Area. Lush landscaping surrounds the building which includes a outdoor courtyard eating area adjacent to 12 mile creek.
Merdian Credit Union is the primary tenant in the building ensuring a very high level of professionalism amongst tenants within the building.
The very distinctive contemporary design, elegantly appointed interiors, exceptionally high caliber neighbours and especially convenient location combine to create a prestigious working environment that is certain to meet your company's needs.
The pleasures of a suburban location are most evident with the park-like setting that surrounds Henley Corporate Park; extensively landscaped grounds and plentiful parking accentuate the comforts of working at Seventy-Five Corporate Park.
Henley Corporate Park Inc. operates its buildings at the highest possible standard. Web-based service request management system ensures a speedy response to tenants' needs and environmentally friendly initiatives and programs are in place throughout the property. In addition to the core service found in all of our buildings.
75 Corporate Park Drive Building Summary

| | |
| --- | --- |
| Building Size: | 57,169 sq. ft. |
| Number of Floors: | 4 |
| Typical Floor Size: | 12,000 sq. ft. |
| Year Built: | 1991 |
| Building Architect: | Williams, Woodruff and Elmes |
| Elevators: | 2 (high speed) |
| Parking: | 4 per 1,000 sq. ft. |
75 Corporate Park Drive Offers
24 hour electronic card access and advanced security system
Telecommunications available through multiple providers, including fiber optics
Extensively landscaped grounds
Impressive views of surrounding natural areas
Easy Access to Hwy 406 & Q.E.W.
Shopping and Dining within walking distance
Bike rack
Easy access to Martindale Road Public Transit stop
Standard Finishes
Wood entry door(s)
Premium flooring and painted wall services
Suspended acoustic ceiling system based upon a 2.0' x 4.0' module
Recessed lighting (2.0' x 4.0') provided at 70 foot candle illumination +/-
HVAC distribution as exists
100 amp electrical service
Internal partitioning as exists
Parking
Non-designated parking available on the basis of four (4) spaces for every 1,000 square feet of leaseable area
Signage
Directory Board – identification to be provided by Landlord for Tenant at Ground Floor Lobby
Door Signage – permissible, at Tenants expense, subject to Landlord's prior approval